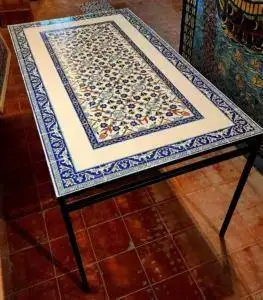 A few days ago we finished a beautiful large table adorned with our decorative ceramic tiles. It's quite complicated to make these tales sine you just can not glue the tiles on top of the wooden backing. It involves spreading the special silicon adhesive with atrowel and not gluing the tiles on strips or dots of silicon glue. This makes the wood waterproof so that when used in exterior conditions the ceramic table does not buckle up.
It's also important as to what type of grout to use. Unlike most other ceramic tile table manufacturers we use special epoxy grout which will last much longer than regular grouts …specially in exterior conditions. More expensive than regular cement based tile grouts but definitely worth the additional cost due to the longevity of the table .
Different decorative tile designs are available which can be seen at our decorative tiles page
Some of our clients also like the use of our ceramic tile murals as ceramic table tops but usually its best to have a pattern which can be seen properly by all people seated around the table. When they insist on having a tile mural as a pattern for a table top we offer them a version where the mural is mirror imaged on the table top so that guests/people seated  can see a a proper pattern from all sides. You can see more options of our decorative ceramic tile murals by clicking on the active link shown ….our tile murals.
This client asked for this specific pattern with another pending order of a circular table made to fit on her wooden table which she will deliver to our studio. Its a much more complicated process doing round tables but our tile artisands and installers will be up to the challenge.