Read as to how we used to test/record ceramic borders and colors for our painters to copy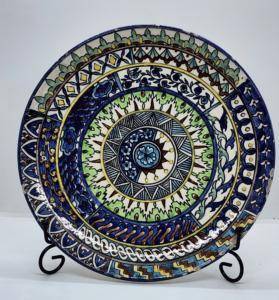 An interesting combination of pottery from the Balian Studio of Jerusalem. A hand painted vase and a decorative plate showing various border patterns. The idea behind was to test colors and border patterns to be used in upcoming decorative pottery items.It was also used to keep a record of these patterns for the studio painters to copy both in terms of color combinations and pottery patterns.
The plate is the work of my mother Marie Balian of the Balian studio( 1966- to present day) while the vase is of the joint workshop of Balian/Karakashian 1922-1964. The vase was a recent acquisition of the Balian Jerusalem Museum of
Armenian Palestinian Ceramics.
You will notice tat the vase which is an older piece has the colors in a sort of melting pattern. This is due to the over firing of the piece in the older wood fired kilns which had no temperature controllers. The use of lead based glazes , which we are not allowed to use nowadays, produced very shiny and fluid glazes which was difficult to control properly.
You can see a collection of our hand painted decorative plates through the underlined link
Both pieces can now be seen at our studio